The LIVAP Project-Info
Liberia is the third poorest nation in the world. Torn apart by 15 years of civil war, and then ravaged by Ebola, this is a nation with 85% unemployment where teachers earn as little as $1 a day. The LIVAP (Liberian Visual Arts Project) academy is a unique school on the edge of the capital, Monrovia, where the passion and dedication of the principal is its most valuable resource.
The Republic of Liberia is a country in West Africa bordered by Sierra Leone to its west, Guinea to its north and Ivory Coast to its east. Originally founded by freed slaves from the American South between 1820 and 1865, it is unique among African nations in that a colonial government has never controlled it.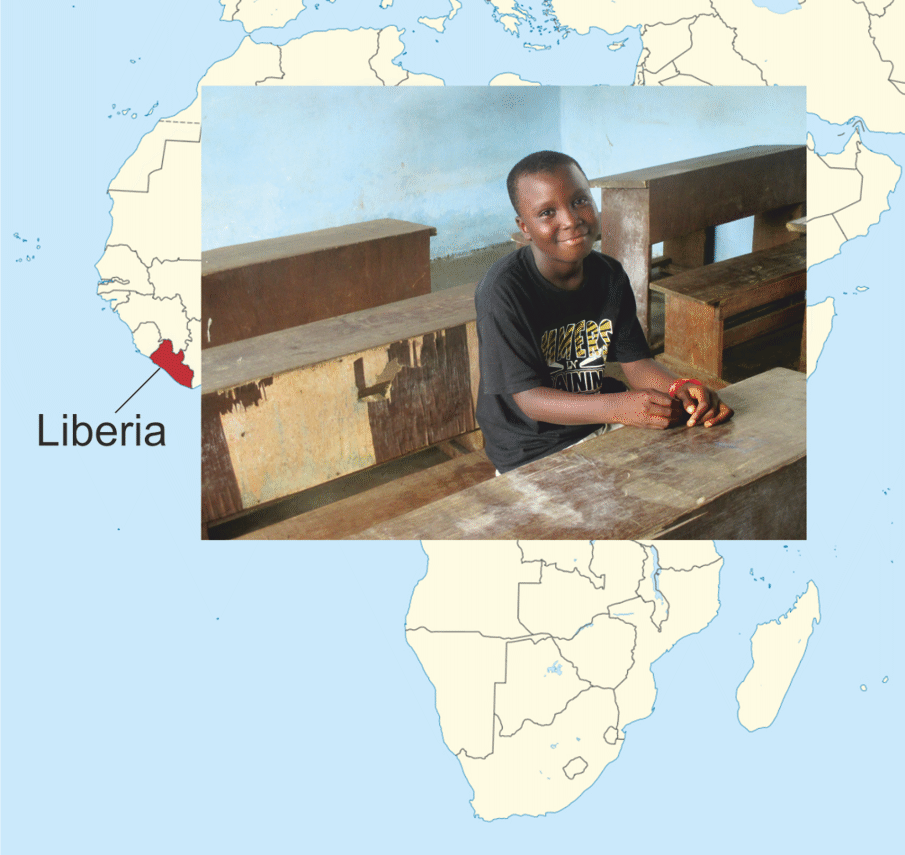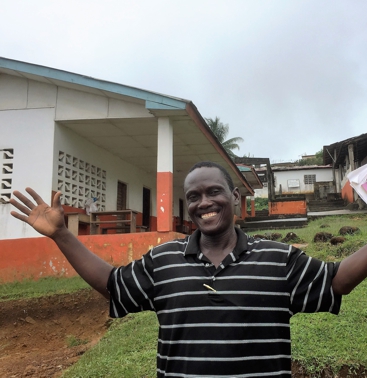 In 1993 a young artist, Topiyoo Nya Blimie, fled the civil war in Liberia to live as a refugee in neighboring Ivory Coast.
After months of subsistence living, struggling with language (Ivory Coast is Francophile; Liberia is English-speaking), he began to look beyond his own circumstances to the suffering of his fellow refugees and to think about how he could use his own skills, and the one drawing pen in his possession, to help alleviate it. In 1995 he founded the Liberia refugee visual arts project (LIREVAP), encouraging self-expression through visual arts to help detraumatize the Liberian refugees in the Ivory Coast.
He received some additional training and funding from the Jesuit refugee service during 1997 to continue running LIREVAP workshops in schools and orphanages in Ivory Coast, also working in one of the schools there for a while as an art teacher, before returning to war-torn Liberia in 1998 to set up the Liberian Visual Arts Project (LIVAP) in an old abandoned building that he established as an elementary school.
Left: Topiyoo Na Blimie, principle of LIVAP academy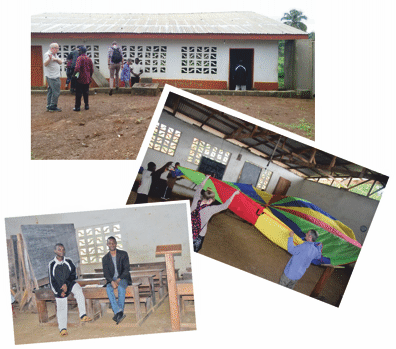 2005: Building starts.
With the help of parents and humanitarian aid, enough money was raised to purchase land and begin the construction of a 4 classroom building in 2005, and with more help from charitable organisations, including ZOA International and Living Water International (who provided a water pump and a flush toilet), the school added a second parcel of land to the site in 2007 and began work on a school hall which ZOA helped to complete. (ZOA is an international relief and recovery organisation working in the poorest nations in Africa and Asia.)
2010: Storm damage.
The nursery-kindergarten building (like many local buildings: a mud-brick construction with a wooden frame) was eventually completed, only for the roof to be lifted off during a storm in 2010. Requiring a relatively small amount of money by Western standards (less than $US 2,000) this amount has been unattainable for the school and that building is still unusable. Topiyoo writes:
"Currently, we are using the auditorium as a classroom for the nursery, kindergarten and elementary. The auditorium is also used as a multipurpose facility for devotion, chapel service and programs. The pictorial learning aids for the nursery are in most cases removed by other students during activities. Our challenge is to renovate the de-roofed building which will serve as a conducive and uninterrupted classroom for effective teaching and learning. Eventually we hope to complete the additional two classrooms. As I earlier stated, we are currently dealing with powerless children and jobless parents who barely find enough food to eat."
Left Top:the auditorium. Middle "This is Education" (see below). Bottom: inside the auditorium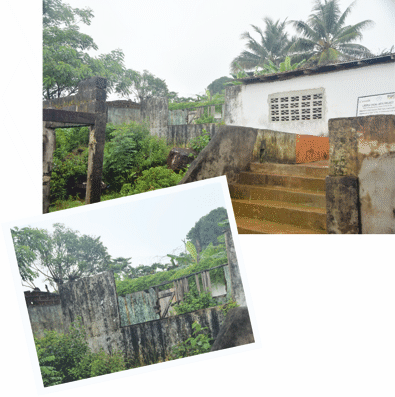 nature has taken over the storm-damaged kindergarten.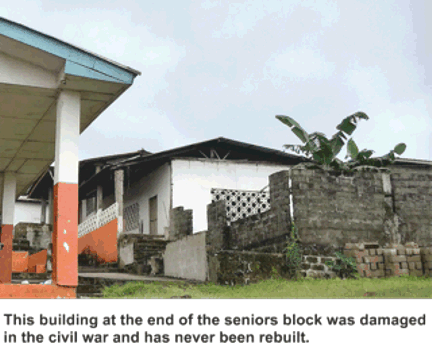 the junior block and an unfinished classroom.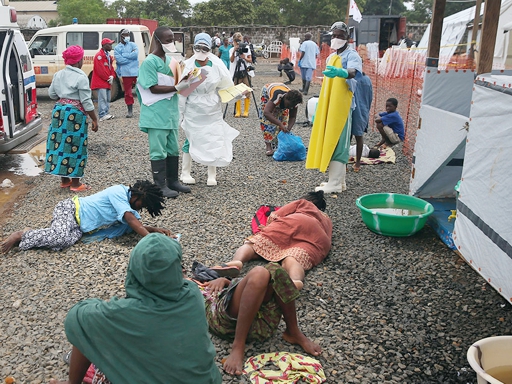 2015: Ebola Strikes
Between 1989 and 2003 Liberia was being torn apart by civil war, leaving a nation with practically no infrastructure, a catalogue of civil rights abuses, streets of rubble and a wounded, maimed generation. By 2015, after a decade of stable government and international support, shoots of recovery were beginning to appear. And then Ebola struck: not only destroying communities, but also the country's life-blood of new young professionals who fled in their droves.
"Worst of all the outbreak of the Ebola virus has caused most of the children to be wayward or street children. Many of them have become parents at an early age, forced into prostitution or made to become street vendors and peddlers to support their families. These are the kinds of people we are dealing with: poorer than poor. We need assistance from humanitarian groups to get us out of this culture of silence."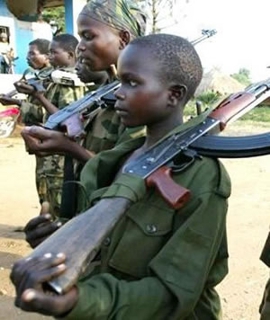 Rote Learning: "one-way communication"
Many teachers in Liberia are unqualified and receive a pittance: roughly 1 $US a day. (The official currency of Liberia is the Liberian dollar, but the US dollar is the currency of choice). A qualified teacher can in theory earn up to 10 $US a day, but they are in very short supply, and even if a qualified teacher does apply for a job in a school it is unlikely that the money will be there to pay that level of salary. Teachers often work in two schools in order to boost their income. Parents on subsistence income have to pay for all books and materials as well as for their children's education. There is state education, in the cities at least. But where state schools do exist we have heard that the teachers are unqualified and frequently unpaid. In addition many parents cannot afford to get their children school clothing and equipment.
Education is under-subscribed as a degree choice: about 50% of all Liberian university students seek qualifications in commercial subjects such as business studies or finance as these are seen as the best routes out of poverty. Unfortunately, in a country with 85% unemployment, this route often ends in a closed door. Of the teachers, Topiyoo writes: "Even among the teachers some only use the classroom as stepping stone. No job, less food. They are mostly in poor health; unqualified for the profession; their lessons based on rote learning: one way communication."
Do we recognise the boy in his own world at the back, or the girl at the front chatting to her friend? The back of the room is a jumble of storage. The only resource is the blackboard. The walls are bare, and the students have to twist round to write in these all-in-one "writing seats" - wooden chairs with a bookrest extension on one arm.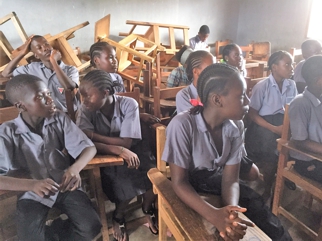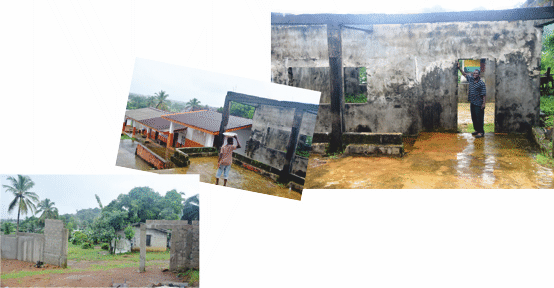 "This is Education!"
Standard classroom equipment is often no more than chalk and a blackboard. Children may have desks, they may have benches, or they may just have the writing seats shown above. Yet throughout all these hardships the school principle Topiyoo Nya Blimie has held onto his vision of providing an education for children that goes beyond these limitations. He has also worked with and received input from the charity Right to Play who help disabled and disadvantaged children have access to quality play opportunities.
Bob Hext of Crossbow Education visited Liberia in June 2016 as part of a small charity team seeking to identify specific projects for targeted support. If there was one moment during their visit to this school which convinced him that they had found somebody he wanted to work with, it was when the youth leaders who came with them presented a parachute to the school and demonstrated some parachute games. Excited, Topiyoo turned to Bob and said: "This is Education!"
It has been said of Liberian educational standards that "12th grade in Liberia is the same as 4th grade in the USA." This needs to change. The LIVAP project aims to provide quality education for the students in this school, so that it can become a beacon school in the city of Monrovia, and begin to show how raised standards can lift communities out of poverty. But to start with they need to finish building the parts of the school that have run out of money or have been destroyed. The children need decent desks, and the teachers need more than chalk and a blackboard for their lessons. And the job needs a level of pay that will attract quality, committed staff. The LIVAP project is administered by Crossbow Education Ltd and Wildwood Church in Stafford. 100% of every donation will go to the school.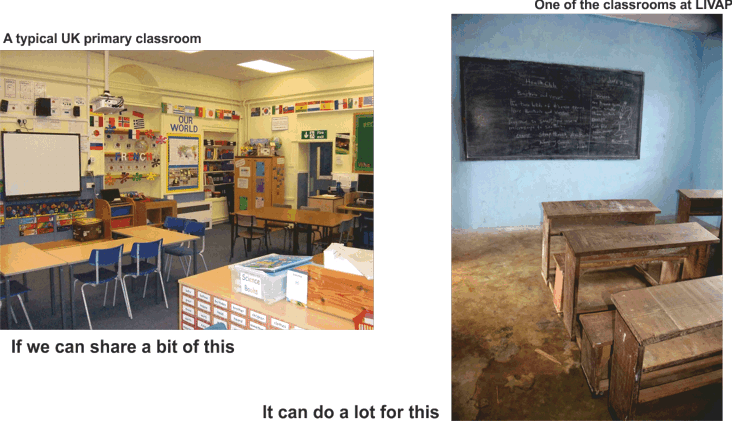 "On our own we are also poor, the challenges are much too difficult to achieve easily" (Topiyoo Na Blimie)
What can you do to help?