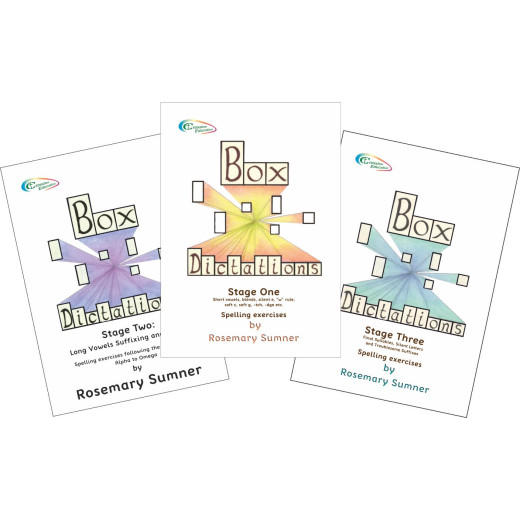 Box Dictations
From £14.99
£14.99 inc VAT
Product Code

Select Option for Code

Rating
Box dictations are an effective way of providing visual support for spelling for children (and adults) who experience the common dyslexia-related problem of failing to map the sounds of letters onto their shapes.
The benefits of Box Dictations:
Children enjoy them. Given the choice, they will nearly always opt for a box dictation than a normal one.
The presence of the boxes gives the child valuable clues as to the shape of the word and the number of letters in each word.
The shapes provide vital clues as to which letters to choose.
Children are more likely to put in capital letters.
They are more likely to get the spellings RIGHT and thus increase confidence.
The dictations follow a structured order, and can be used effectively by parents at home as well as at schools.
Hearing the words, children see the shape and the quantity of letters required to make it up, and are thus better able to segment the sound of the words into the correct letters. Box Dictations are best used with the photocopied "boxes" page either inside one of our "Write and Wipe pockets" or covered by a clear plastic (eg overhead transparency) sheet, with the child writing with a wipe-clean marker pen. Using this method, children are able to make as many attempts as they need at spelling a word until they are satisfied with the result - ie they have the correct sounds mapped onto the correct box shapes in the correct places. The author has developed this approach over many years of teaching children with dyslexia and other learning difficulties, and now an increasing number of teachers are discovering the benefits of Box Dictations for their own students.
Book 1 Includes:
SHORT VOWELS, BLENDS, CONSONANT DIGRAPHS, W-RULE, FF/LL/SS, VOWEL + E, SOFT C/G., -TCH, - DGE ETC.
Book 2 Includes:
LONG VOWELS, R CONTROLLED VOWELS, OW, OY, SUFFIXING RULES, PLURALS ETC.
Book 3 Includes:
TROUBLESOME SUFFIXES, FINAL SYLLABLES, SYLLABIC AND NON-SYLLABIC L, SILENT LETTERS ETC.
The paper used to create these books has been purchased through the Carbon Capture Programme and has helped to contribute to over 53,000 trees being planted throughout the UK.