Plain Window Eye Level Reading Rulers
Product Code

Select Option for Code

Rating
The Eye Level Reading Ruler is a coloured overlay filter and text highlighter about the size of an eight-inch ruler. It is discreet and professional-looking and can be kept in a book as a bookmark for easy storage. This Dyslexia Friendly resource helps relieve the symptoms of Visual Stress.
Part of the Visual Stress Collection: a previous winning product of the Education Resources Awards SEN Resource of the Year.
Benefits of reading through colour:
Increase reading speed by up to 25%

Enhances reading comprehension

Improves reading accuracy

Improves attention span

Fully transparent with a tracking line at 1cm for underlining.

Useful for studying diagrams and columns of figures.
These reading rulers are made of transparent plastic that both underlines the text by the use of an opaque line and highlights it in a coloured tint. One side of the ruler is gloss and the other matt.
5.0 out of 5 stars Easy on the eyes.
"I've purchased cheaper version of these filters, but they had distortions in the plastic and small scratches.
These filters by Crossbow do not have any distortions and are a lot easier to read through, that is the aim after all, to make it easier to read. I now read a lot longer before getting tired eyes. Well worth getting the pack rather than individual filters." (Verified UK Amazon review: 11 September 2023)
Easy to use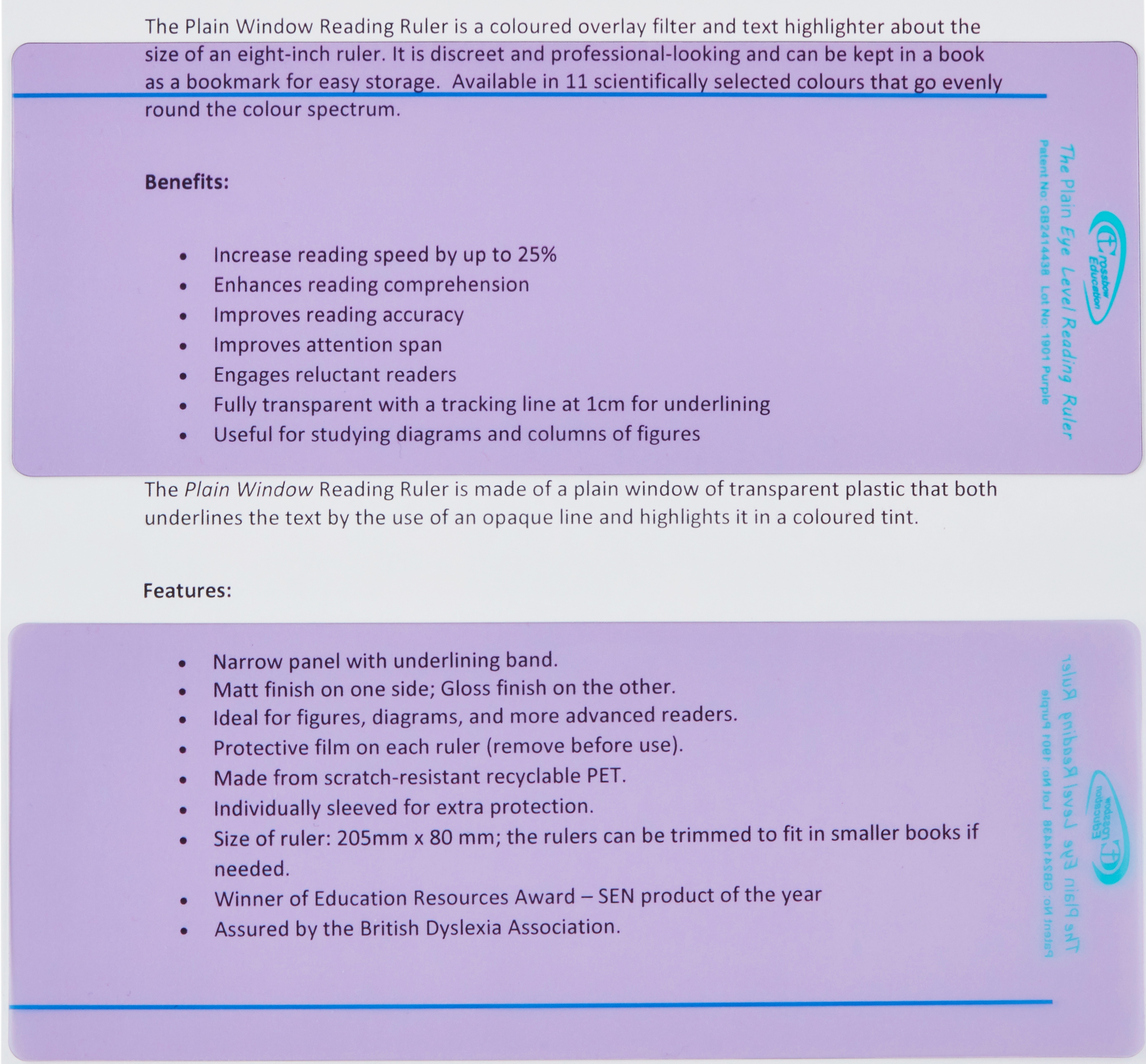 Simply place over text and read.

Narrow panel with underlining band to help keep on the correct line.

Ideal for tables, columns and diagrams
Create up to 30 tints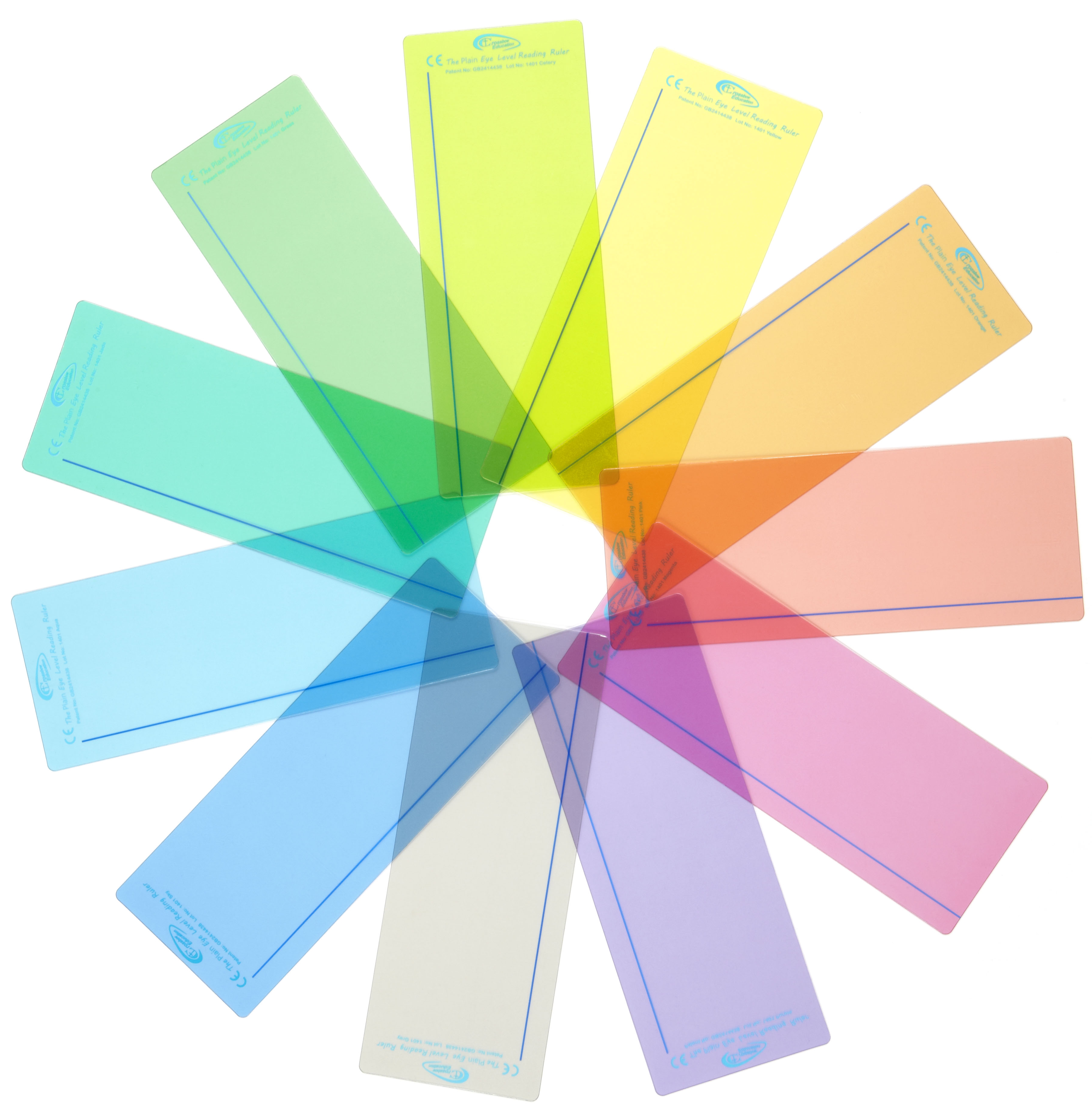 Our 10 scientifically selected colours go evenly around the colour spectrum.

This allows you to create up to 30 different tints when combining the rulers.

Most popular colours are Yellow, Aqua, Grass, Pink, however each individual will have their own optimum colour.
Individually sleeved & protective film on each ruler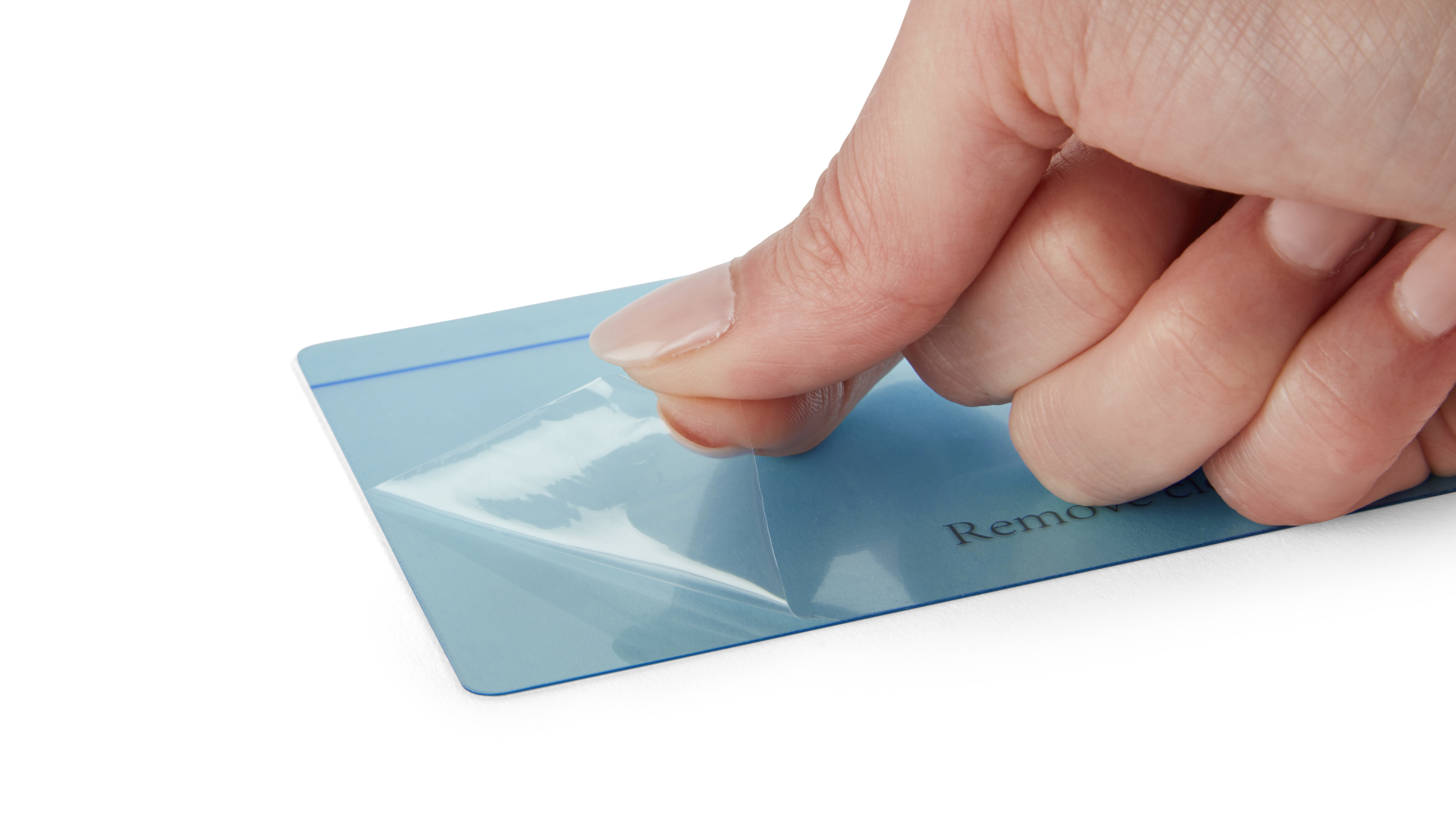 Our rulers have a protective film on the gloss side of each ruler (remove before use) and are individually sleeved to arrive to you in perfect condition.

Made from crystal clear scratch-resistant recyclable PET.
Ideal for all ages & easy to store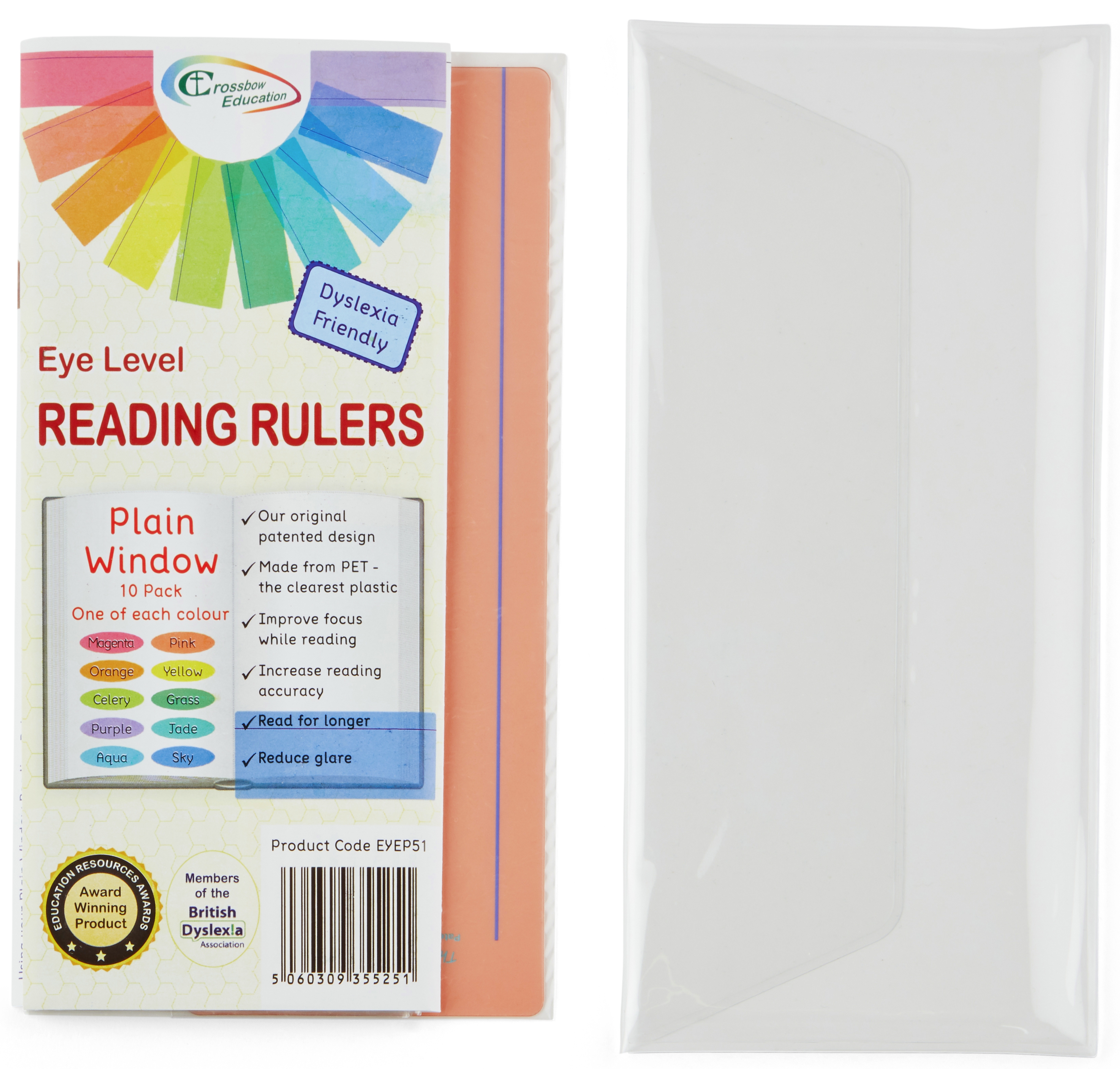 Ideal for all ages - nursery to adult. Great to use at school, college, home and at work

Easy to store, keep as bookmark or put away in reusable packaging. Ruler size is 205mm x 80 mm
Colours Included in Multi Packs:
30 Pack (10 colours mixed): x5 Yellow, x5 Aqua, x4 Grass, x3 Sky, x3 Pink, x2 Celery, x2 Jade, x2 Purple, x2 Magenta, x2 Orange
30 Pack (5 colours mixed): x9 Yellow, x9 Aqua, x4 Sky, x4 Grass, x4 Pink
10 Pack (10 colours): 1 of each colour
10 Pack (5 colours mixed): x3 Yellow, x2 Aqua, x2 Sky, x2 Grass, x1 Pink
Differences between the Duo Window Rulers and the Plain Window Rulers:
Duo Window Reading Rulers are divided into a narrow reading window and a wide reading window by an opaque strip. People who have difficulties keeping their focus on the line being read find this design useful. Focus can be further confined by taping paper over the wide transparent window a quarter of an inch below the opaque part of the ruler, so that all words except the present line are completely blocked out.
Plain Window Reading Rulers are the same size, price and colours as the Duo Window Reading Rulers, but with only one window and a tracking line half an inch (1 cm) from the edge. They have no opaque strip in the middle. Confident readers who struggle with visual stress often prefer plain because there is no interruption to the flow of text.