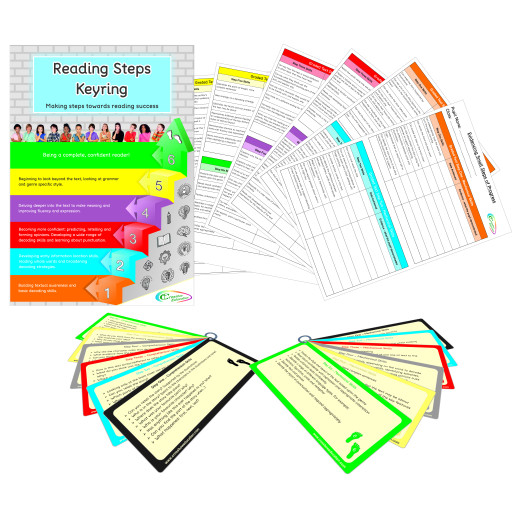 Reading Steps Keyring
From £15.99
£19.19 inc VAT
Buy 6 or more for £13.99 each.
Product Code

READ18

Availability

In Stock
Six double-sided plasticized skills level cards that clip to the lanyard, tracking small steps progress in mechanical and comprehension skills for children at every level, on any reading book. Reading Mechanics Prompts and Comprehension Prompts target specific outcomes as you listen to children read.

Reading Mechanics Prompts help develop skills such as:
reading from left to right and making a return sweep to the next line of text;
decoding words using a range of strategies;
understanding textual conventions;
listening to themselves whilst reading.
Reading Mechanics Prompts help develop skills such as:
making inferences and deductions;
locating information;
using their own life experiences and opinions to evaluate what they have read;
making predictions;
using the text to justify and evidence their ideas.
Simple steps to reading success:
Using the colour-coded chart supplied, identify which card to use with the pupil. Each card is matched to one of six text steps – graded by difficulty.
When listening to a pupil read use double sided mechanical and comprehension skills cards on the keyring as prompts to develop success.
Use the photocopiable skills grid supplied in the pack to track pupil progress.
Watch confidence grow and outcomes improve as your targeted support develops skills appropriate to individual abilities.
Reading Steps Keyring is brilliant new resource that enables all staff to support all pupils on their reading journey.