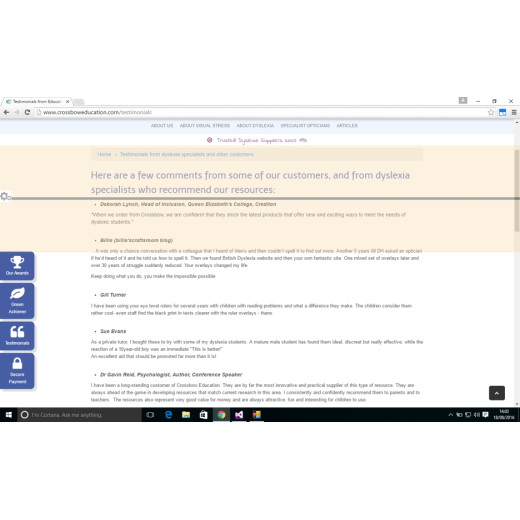 Tint and Track V1 Trial
Product Code

TINTT01

Availability

In Stock
30 Day FREE Trial
For reading and writing through colour on screen.
For PC and Windows® tablets.
With millions of colours to choose from, and many configurations of shape, size, line width and line position, all accessible at the click of a button, Tint & Track can benefit computer users everywhere - whether in the home, school, college, library or office.
Tint and Track gives you a fully configurable screen overlay that works on top of all your normal programs, providing anything from a tinted bar to a whole tinted screen to aid reading and writing on the computer.
Features Include:
Can be used with any application including internet browsers
Type through the overlay
Fully networkable across all platforms
Quickstart menu
Autosave settings
3 simple steps to removing screen glare and stabilizing the print:
1: Select your colour
Infinitely adjustable colour options.
A diagnostic tool for overlay colours:
The colour palette on the quickstart menu shows the Crossbow Colours used in the Visual Stress Range making it a quick diagnostic tool for assessing colour preferences for virtual overlay use.
2. Configure your settings
Customisable options for line and size settings creating a wide variety of opaque blocks or underlines.
Multiple size options ensures that differing on-screen needs are met (e.g. full screen width for spreadsheets; half-screen for working on two separate programmes etc).
3. Improve your reading comfort
Read and type through your chosen coloured overlay.
Two Modes:
The dynamic mode:
Enables you to highlight the lines you are reading or writing in the colour of your choice, with or without underlining.
Moves with your mouse so no need to hold and drag.
The static mode:
Lets you chose a specific area of your screen to tint; place it and it stays.
Use the hot-corners to easily resize and move the Virtual Overlay.
System Requirements:
Disc Space Required: 250mb
Operating Systems: Windows 8, 10 or higher (it may work on operating systems before, however we cannot provide support for anything lower than Windows 10).
Compatibility: NET Framework 3.5 or higher. (if at installation time you do not have this framework installed, the Tint and Track installer will prompt to download/install it for you.
Internet connection is required to authenticate Tint and Track on the first use of the software, after this it can be used offline as well.